The Best Driving Range in Ohio just got a lot better!
Welcome to Top Tracer Driving Range in North Ridgeville, OH - the ultimate destination for golf enthusiasts looking to improve their game. Our state-of-the-art facility is designed to provide an immersive and fun experience for players of all levels. Whether you are a novice trying to learn the fundamentals of golf, or an experienced golfer looking to improve your technique, you will find that our facility has everything you need.
At SportsVille, we have equipped 20 of our covered and heated bays with Toptracer Range. Each bay has a monitor that displays your shot trajectory, distance, balls speed and much more. You can play a golf courses in one hour whithout leaving your bay. You can also partipate in long drive and closest-to-the-pin competition against players in your bay, or other players in the US and the rest of the world!
SportsVille Driving Range in North Ridgeville, OH is open year-round. The toptracer bays are available on first-come-first-serve basis at no additional cost to the bucket price.
The Technology that changed the way you play Golf!
Toptracer is a product of Top Golf. It is the technology that transformed how we watch golf on TV. It's the ultimate practice tool that offers an engaging, data-driven experience that appeals to everyone. With toptracer, you can practice every aspect of your game, from short iron shots to long drives, thanks to the diversity of the targets and distances that it offers. Never played golf before, no problem, top tracer range has many games such as Go Fish and points games that will keep you engaged while subconsciously learn how to hit the ball.
THE APP
While you do not need to download the app to enjoy the features of our Toptracer Range, the app is where most of the magic happens. When you download the free app on your mobile device and create your profile, you can instantly become part of a global golf community. The app stores data from your practice sessions so you can monitor changes and fine tune your swing over time. In addition, the app allows you to join SportsVille leaderboards and other leaderboards from in the USA around the world. All that happens seemlessly when you connect with your app.
You can download toptracer app on your iphone or android from their corresponding app stores. it's free of charge and worth it! Once you download the app and enter you information, you will be able to start the app and scan the qr code displayed on the screen to use the top trace range. After you finish your range session and log out, you can see or your data on your phone through the app.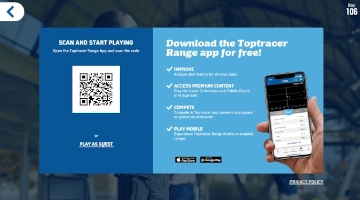 THE MENU
Top tracer range offers many game modes. When you connect to the system you are presented with a menu of games to choose from. Any game button that has a trophy next to it means that there is a leaderboard for that game. If the menu has a 2 person avatar, it means that multiple players can participate and compete against each other in the particular game. The menus are self explanatory and include instructions on how to play the games.
THE LEADERBOARDS
Top tracer leaderboards let our guests see how they stack up against other golfers from the same range or around the world. They're updated in real-time to show top performers in each of our game modes. All you have to do to join a leaderboard is play a game while connected to the system with your top tracer app instead of guest. The system will do the rest for you. Leaderboards are accessible within the Toptracer Range app and displayed on TV monitors throughout our range facility.