The Best Golf Driving Range in Ohio
Practice, play, perform and most of all, Have Fun!
SportsVille Driving Range is a high-tech practice and entertainment golf facility that is open year-round. The facility was purchased and extensively renovated in 2014, 2018, and again in 2022. It has since become one of the best Standalone Driving Range in the the region.
Our driving range is powered by Toptracer Range, a product of Topgolf that you see on the Golf Channel while watching The PGA Tour games. While we are not Topgolf, we believe that we offer more when it comes to the game of golf.
Our driving range is equipped with 60 night lights. It features 20 covered and heated bays, 20 outdoors hitting mats, and 40,000 square foot of grass tee area that can accommodate more than 50 players. The covered tees are powered by Toptracer Range technology, and are all equipped with Toptracer touch-screen monitors that shows you your ball flight, and displays valuable shot data. You can even play golf courses and participate in local and international competitions without leaving your hitting bay.
The Toptracer bays are available free of charge on a first-come-first-serve basis with the purchase of any range bucket size at SportsVille. We occasionally reserve a few toptracers bays for special group events such as corporate events, team building activies, fundraisers, and private parties.
SportsVille driving range features a large and well maintained short-game practice area. This area includes a 10,000 square foot putting green, a 3,000 square foot chipping green, and a 1,500 square foot bunker. The putting green is available at no charge to SportsVille customers with the purchase of any size bucket of range balls.
SportsVille Golf Academy also provides individual golf lessons as well as group instruction for ladies, juniors, beginning, and advanced golfers. Lessons are held on our range, in our Indoor Golf Center, on our short-game practice area, and yes on our mini golf course !
SportsVille Driving Range Features
Strategic location on Center Rdige Rd in North Ridgeville, Ohio
340 yards deep lighted range that is open year-round.
Toptracer covered heated bays that will take the guesswork out of your practice session.
New practice balls every year to our customers' satisfaction.
Well maintained grass tees moved on regular basis.
Fairway Targets, Greens and Yardage Markers to improve your game.
40 Outdoor mats for sun loving golfers.
Short-game practice area with putting green, chipping green and bunker
Indoor golf facility open year-round for individual, groups and league play.
Golf lessons by SportsVille Golf Academy instructors.
Current Bucket Prices
Small (50 Balls)
$10
Medium (70 Balls)
$12
Large (90 Balls)
$14
Enjoy discounts with our value cards:
Plus+ Card
5 Bkts + 1 (free)
20% More Card
$100 + $20 (free)
Plus + Bonus Card

Buy 5 buckets get the 6th one free.
Can be used in the ball dispenser.
Can be recharged at the ball dispenser.
Premier Gift Card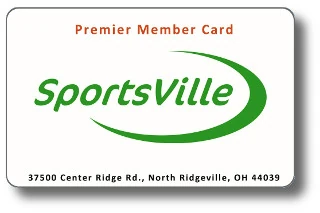 $25, $50, $75, $100
Can be used and recharged at the register only.
Can be used for all activities except Food & Drinks.